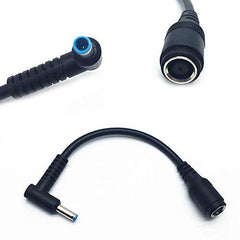 LaptopKing 7.4x5.0mm to 4.5x3.0mm Blue Tip Laptop Charger Adapter DC Power Converter Cable for Dell HP Laptop
Item: Power charge converter cable
Type: 7.4mm X 5.0mm Round Jack to 4.5mm x 3.0mm Plug
Color: Black with Blue Tip
Length: 15.8cm
Compatible For: Dell / HP
Quantity: 1Pc
Great replacement for your HP / Dell
Can convert round connector to square connector
It is 7.4mm X 5.0mm Round Jack (old type) to 4.5mm x 3.0mm Plug End (new type) Adapter Pigtail
Specification:
Item: 100% Brand New Power conversion line
Input: 7.4mm x 5.0mm DC plug Female
Conversion end: Outside diameter 4.5mm, inside diameter 3.0mm (Male)
Voltage requirement: 20V
Current requirement: 4.5A max
Product length: 15cm/0.49ft
Material: Copper wire inside
Color: Black
Features:
Convert the standard 7.4mm x 5.0mm round power port into 4.5mm x 3.0mm port power supply.
Compatible for 0-24 Volt IP security camera power adapter and any applications that requires DC input with 4.5mm x 3.0mm DC plug only.
Ultra-thin power conversion cable. Small size, light weight, easy to carry.
Application:
Suitable for Dell laptops: Dell Latitude Series, Dell Inspiron Series, Dell XPS Series, Dell Ultrabook XPS Series, etc.
Suitable for HP laptops: HP Pavilion Series, HP Envy Series, HP G42, HP Elitebook Series, HP Compaq Series, HP Stream Series, HP Chromebook Series, HP Split Series, HP Envy Series, HP Notebook Series, HP Probook Series, etc.
It is suitable for converting the power adapter (charger) of 7.4 * 5.0mm interface into a power head of 4.5 * 3.0mm to charge the notebook. Also suitable for universal notebook power adapter, mobile power, professional repair shop.