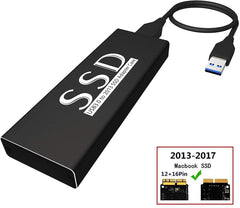 LaptopKing USB 3.0 PCIe SSD Enclosure for 2013 2014 2015 2016 2017 MacBook Air Pro Retina, USB External Reader for A1465 A1466 A1398 A1502 SSD Adapter (Support 12+16 pin)
Attention: 
1. SSD in the photo not included in the package.
2. SSD formated in Mac OS systerm can't be compatible with Microsoft system,so new SSD without partition,ssd can't be shown in table of"My Computer', please use the Disk Manager in Windows to delete the old partitions and create a new partition.
3.Fit following SSD modules:
Samsung MZ-JPU128T/0A2, MZ-JPU256T/0A2,MZ-JPU512T/0A2,MZ-KPU1TOT/0A2,MZ-JPV1280
Sandisk SD6PQ4M-128G,SD6PQ4M-256G
NOT Support Toshiba THNSN2128GSPS,Samsung MZ-JPV128/2560/5120,MZ-KPV1TOT
3. Update BIOS to the latest version.

Description?
This product is 2013-2014-2015 MACBOOK AIR/PRO Retina ssd SSD to USB adapter, it is allowed to use SSD from 2013 2014 2015 Macbook SSD module through USB3.0 port on your desktop or laptop.

Features:
1. Fit SSD modules only from the following Apple 2013 MACBOOK AIr PRO:
11" Air Mid 2013, A1465(MD711.MD712)
13" Air Mid 2013, A1466 (MD760.MD761)
13" PRO Retina Late 2013, A1502 (ME864, ME865, ME866)
15" PRO Retina Late 2013, A1398 (ME293, ME294, ME874)
2. Support Hi-Speed USB 3.0(5Gbps), PCIe Gen2 5Gb/s mass storage interface
3. Extra power needed if USB3.0 port can't provide enough power supply

Package included:
1x USB 3.0 to 2013 2014 2015 SSD Adapter Case Enclosure.