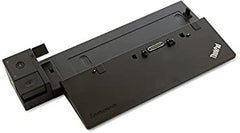 Lenovo ThinkPad Pro Dock 90 W (40A10090US) T440/T450/T460 x250 refurbish Sale
Models: L440, L450, L460, L470, L540, L560, L570, P50s, P51S, T440, T440p, T440s, T450, T450s, T460, T460p, T460s, T470, T470P, T470S, T540p, T550, T560, T570, W550s, X240, X250, X260, X270.
refurbish

One of the dock's USB ports also supports always-on mobile device charging,
which means that you can charge your mobile phone or tablet, even when your notebook is away.
Our unique physical alignment guarantees perfect notebook-dock alignment every time. Comes with ThinkPad AC adapter to charge your notebook.
3x USB 2.0, one supports always-on USB charging
3x USB 3.0
10/1000 Gigabit Ethernet, supports enterprise manageability
1x DisplayPort 1.2 (Exclusive use with DVI-D)
1x DVI-D (Exclusive use with DisplayPort)
1x VGADriver-free, perfect video quality
1x Stereo/Mic Combo Audio Port
Security lock holeConvenient eject button for one-step system removal
Charges your ThinkPad with an included ThinkPad 90W AC Adapter
Physical rear alignment for a perfect dock every timeSmaller desktop footprint vs. Series 3 docking stations.
COMPATIBLE with select 65w and 90w Lenovo laptops - NOT recommended for laptops with 170W AC adapters.