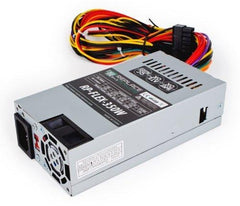 Replace Power 350 Watt 350W Flex ATX Power Supply Replacement for HP Pavilion Slimline 5188-7520 5188-7521 5188-2755 5188-7602 s3200n s3000 s3100n s3400f s3500f s3521 s3707c s7310n s7320n s7700n s7700n AC BEL PC6012 PC6034 Delta DPS-160QB
350 Watt Power Supply
Replace Power Flex ATX Power
LaptopKing products are tested for excellent fit and quality.
If you're looking for great power supply to replace your slimline computer's power supply, the Replace Power RP-FLEX-350
Power: 350 Watt Max Power Output Form Factor: Flex ATX / MiniITX Cooling Fan: 40mm
Internal Power Connectors 1 x 20+4 pin Main Connector 1 x 4-pin EPS 2 x Molex 2 x SATA 1 x 4-Pin Molex 1 x FDD
Cool, quiet and collected, this replacement for replacing or upgrading the PSU in your computer. Compatible with all major manufacturer chassis that take Flex ATX form factor PSU. Upgrade your PC today.